Working...
Natrum mur and diuretic
User submitted topic
Details
Enter a very brief description
Now add specific details
+ Where at
+ Side effects
+ Previous experience
+ Reviews
+ Etc

Natrum Mur 6X (500 Tabs)
Hylands

Hyland's homeopathic remedy Nat. Mur. 6x helps to regulate water distribution within the body.
Celery Seed Health Benefits
Celery Seed Extract is widely used as an effective diuretic, as well as a dietary supplement to help improve circulation and heart health.
Burdock Root (100 Caps)
Nature's Way
Nature's Way Burdock Root Capsules. This herb combines well with Red Clover, Yellow Dock, and Dandelion.
Diuretic (1 fl.oz)
Liddell (Liddel)
Relieve water retention by taking Diuretic by Liddell.
Natrum Sulphuricum 30X (275 Tablets)
Boiron

Natrum Sulphuricum 30X - Bronchial Irritation Aggravated By Humidity
Celery Seed Extract (60 Caps)*
Natural Factors
Natural Factors Celery Seed Extract helps improve circulation, reduce hypertension, and acts as an effective diuretic.
Twelve Salts
Boiron

Boiron Twelve Salts supports the body's immune system, contributes to healthy cell growth, and boosts energy levels.
Natrum Sulph. 30X
Hylands

Natrum Sulphuricum from Standard Homeopathic for the alleviation of biliousness and vomiting.
Aquatrol (100 Tabs)
Seacoast Vitamins

Aquatrol by Seacoast Natural Foods is a natural diuretic. It is effective at providing relief for those who are retaining excessive amounts of fluid. Find relief from bloating and water retention with the herbal remedy, Aquatrol.
Natrum Sulph. 6X
Hylands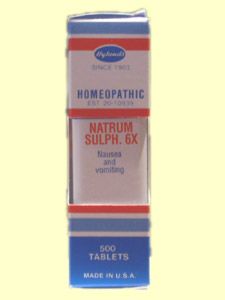 Hyland's Natrum Sulphuricum homeopathic tablets for nause and vomiting.
Kali Mur. 6X (500 Tablets)
Hylands

Hylands Kali Mur. 6X is a product that is designed specifically as an anti-inflammatory and for use in common childhood ailments
Natrum Phosphoricum 30X
Boiron

Natrum Phosphoricum 30X from Boiron provides quick homeopathic relief from indigestion, dyspepsia and more.
*Dislaimer: Be truthful, tolerant, and respectful. Information provided herein does not constitute an endorsement by Seacoast Natural Health, and is for entertainment purposes only. Report suspicious or abusive behavior to abuse@seacoast.com