Working...
Zymactive
User submitted topic
Details
Enter a very brief description
Now add specific details
+ Where at
+ Side effects
+ Previous experience
+ Reviews
+ Etc

Zymactive Double Strength (90 tabs)*
Natural Factors

Natural Factors Zymactive is a proteolytic enzyme which offers support for inflammatory conditions, and provides powerful support for inflammatory conditions.
Zymactive Proteolytic Enzyme (90 tablets)*
Natural Factors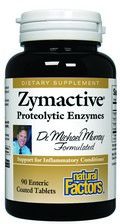 Dr. Michael Murray's formula Zymactive Proteolytic Enzyme support overall health including joint, tissue and immune support.
Wobenzym | Systemic Enzymes | Wobenzym N
Wobenzym N is the authentic systemic enzyme formula developed by Mucos Pharma in Germany and trusted by millions of people worldwide for over 40 years. Free Shipping on all Wobenzym orders with delivery inside the United States.
*Dislaimer: Be truthful, tolerant, and respectful. Information provided herein does not constitute an endorsement by Seacoast Natural Health, and is for entertainment purposes only. Report suspicious or abusive behavior to abuse@seacoast.com