Niacin 500mg Tablets (90 tabs)
Country Life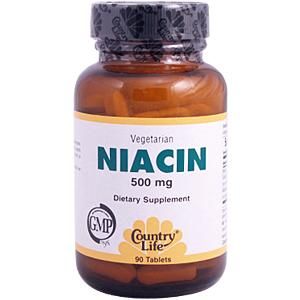 Buffering agents, Calcium and Magnesium, are added to help eliminate any irritation to the digestive system, by neutralizing the excess acidity of Niacin.
Niacin assists in the functioning of the digestive system, skin, and nerves. It is also important for the conversion of food to energy.
Niacin (also known as vitamin B3) is found in dairy products, poultry, fish, lean meats, nuts, and eggs. Legumes and enriched breads and cereals also supply some niacin.